Leicester almost signed third all-time leading EPL goalscorer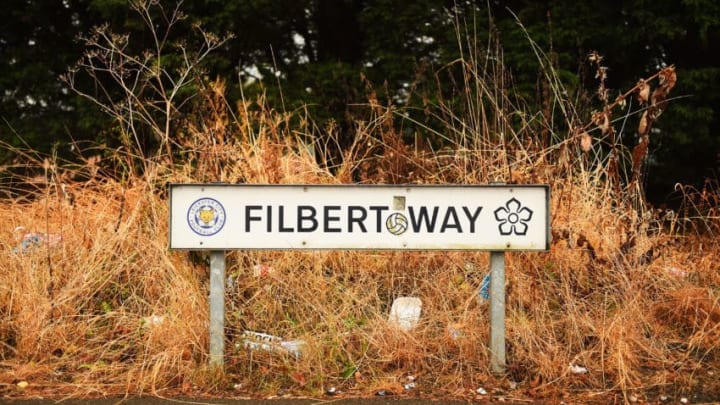 'Filbert Way' street sign in 2014 near Leicester City (Photo by Laurence Griffiths/Getty Images) /
According to a claim by a person directly involved in a near-miss transfer, Leicester City almost signed third all-time leading Premier League striker Harry Kane from Tottenham Hotspur for a pittance. Foxes of Leicester explain the situation and offer our view on how the Foxes might perhaps have looked with the England National Team's all-time leading goalscorer. And what about a Jamie Vardy-Kane partnership?!
£1.2million for Vardy from Fleetwood Town, around £400,000 for Riyad Mahrez, even N'Golo Kante for £8.1m – Leicester have conducted some extremely satisfying and competent business in the recent era. But where would a prospective £600,000 deal for Kane stand among those actual transfers? Well, this is the amount the Tottenham ownership were willing to accept for the centreforward. He was apparently on the verge of permanently signing for the Foxes in 2014; that followed an LCFC loan spell in 2013.
So, how may the east Midlands side have looked as they entered the fabled 2014/15 EPL campaign with the Three Lions legend in the side? Imagine Vary and Kane as a 4-4-2 spearhead duo – mouthwatering. That'd hypothetically be the No.9 in his prime and the Spurs No.10 as he entered stardom. Obviously we don't know how the King Power lineup could have looked with someone like Nigel Pearson at the helm. Apart from the time the then gaffer had Kane and Vardy together on the substitute's bench around 10 years ago. Surely the pair had the appropriate capabilities to blend and perform magic on the pitch in tandem.
How Leicester City almost signed Harry Kane but ultimately did not
Tim Sherwood is the man who claims to have prevented THFC supremo Daniel Levy from selling the talent to Leicester for a relative pittance. Sherwood suggests that he had to debate for the young forward, at the time, to play.
In those days, Spurs' technical director was Franco Baldin, and the Italian possibly advocated selling Kane to Levy. Though the ex-Lilywhites boss believes the subsequent football spoke for itself and the striker stayed in north London.